Archive | work
RSS for this section
Yesterday, I wrote about the decision I made to leave my job. I got a lot of encouraging words and I appreciated all of them.
Today, I'm going to write about how and why I ended up keeping my day job and how it helps with my eventual goal to work for myself.
Before I explain what happened, let me offer a few pieces of advice anyone should keep in mind when they deicide it is time to leave their job.
1)  Never "rage quit"
I don't care how much your job sucks.  Two weeks isn't that long.  If you did your job well and your boss could be a good reference, give notice.  Even if your boss is a total asshole.
At some point, you might need another job.  If you tell a prospective employer that they can't call your last boss, that will make it that much harder to get that job.
I had been thinking about quitting for a long time.  When I submitted my notice, I said I was willing to stick around for up to six weeks to help train my replacement.  It meant that I was going have to wait six weeks before I started working my "real" job. But it also meant that if I needed to go job hunting again, I could list this job on a resume with the knowledge they would say good things about me to a potential employer.
Two weeks goes by quickly.  Do yourself a favor and power through it.
I have burned very few bridges in my life and I've always come to regret making that choice.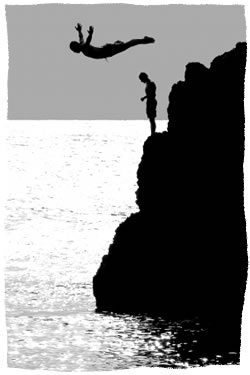 Over the last few months, I've made some vague posts on Facebook about a big life change.  I hate vaguebooking as a rule because you should either say enough for people to know what you are talking about or you should keep your mouth shut.
Anything else always seems like little more than fishing for attention.
I needed to keep my posts vague, though, because until I was ready to be completely public, I didn't feel like I could say what was going on.  I was happy to discuss what was going on in private.  Just not on Facebook.
Well now the deed is done, I want to talk about it to anyone who will listen because I'm excited.  And scared.  And a whole lot of other things.
On January 2nd, I put in notice at my job.  I didn't have another job lined up.  Right now, I don't plan on looking for another job.  I just realized that it was time to make a dramatic shift in what I wanted to do with my life.
So what happened?  Why did I make the decision?  What kind of shift am I talking about?
First, there were some changes in my job that were particularly difficult.  I was told I could no longer use work time to answer and send personal e-mails.  This had been permitted up until a few months ago and with all of the shows and other work I do outside of the standard work week, the use of personal e-mail was very important to me.
Yesterday concluded one of the best customer service experiences I've ever had.  Before I tell that story, however, I'm going to tell you about one of the worst.  They both happened within two weeks of one another.
My office of 3 sometimes orders lunch as a group.  Often, this happens when my wife, who is a driver for us, is delivering near a restaurant we like.  Because the office is so close to our house, she can easily drop something off on the way home.
On a particular day recently, we knew she's be working right next door to a Chipotle and we were in the mood for burritos.  We placed our order through the Chipotle web site and waited anxiously for our lunch to come.
Our lunch was crazy late because, apparently, the restaurant was busy as hell and even though we'd ordered our lunch early, nobody had actually pulled it off of the register yet.  When my wife arrived, they told her they didn't have an order, looked on the computer and insisted they didn't have it and sent her away. She called the office and got the confirmation number (because we'd already paid for the order).  After a long time period in which it became apparent that the manager had no idea how to operate her own computer system, the order was located.